Photo Tour to Namibia
May 22 to June 1, 2021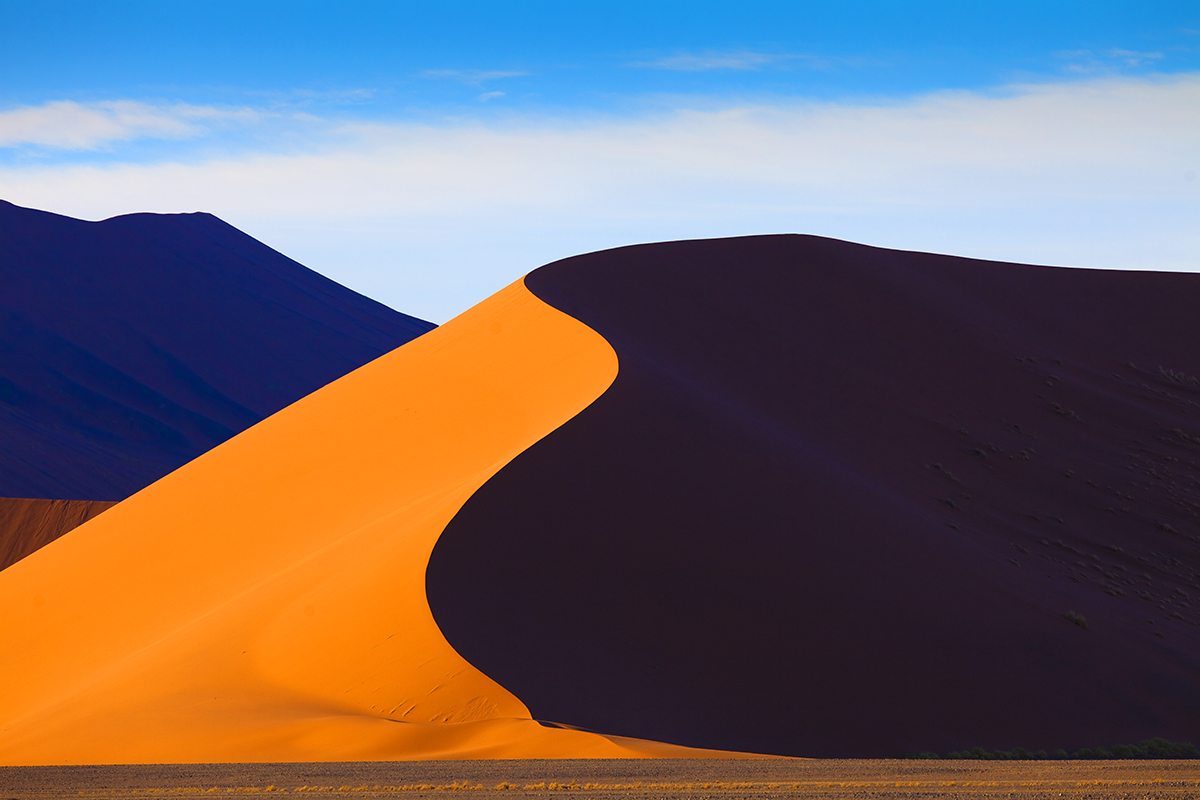 Namibia is a land of stunning contrasts. From the largest sand dunes in the world
(and they are ORANGE!) to people still living in the stone age, the land is
incredibly unique and endlessly fascinating. The landscape photography is second
to none, and we'll take advantage of sunrises and sunsets so we can capture the
quintessential S-curves that have made this place so famous among photo-
graphers. The contrast in color between the intense orange sand and the blue sky
is amazing. You will also be able to have a close encounter with cheetahs,
leopards, lion, wild dogs, caracals, and more, and get pictures that usually take
serious telephoto lenses. We also include on this trip a boat trip on Walvis Bay for
up close and personal (REALLY close) pictures of seals and African white pelicans,
and a fascinating desert tour in Swakopmund in search of desert animals. The
quiver tree forest is another highlight on this tour you'll love. This trip will surpass
your expectations, and the pictures you take will be among the best of your life.
ITINERARY


DAY 1, Saturday, May 22
Arrive at Hosea Kutako International Airport in Windhoek, Namibia on this day
(airport code WDH). If you are departing from North America, you will need to
leave at least by May 21. Jim recommends, though, that you overnight in
Johannesburg to recover from the long flight. Then you can continue on to
Windhoek on May 22. Upon arrival in Windhoek on May 22, you will be met by
your guide who will transfer you to your first night's accommodation in Namibia.
Jim will give you an orientation of the trip, discuss landscape and wildlife
photography, and answer any questions you may have. From the rooftop bar, you
can photograph the beautiful Christ Church built by German settlers in 1910.
Dinner will be served at the hotel this evening. Overnight Hilton Hotel.
Day 2, Sunday, May 23
Today you will depart Windhoek via Rehoboth and Mariental to Keetmanshoop.
Here you will be staying at the Quivertree Forest Rest Camp, which is ideally
situated for taking photos of the Quivertree Forest in the early morning hours or
in the night. There is a restaurant/bar in the main building. Breakfast and dinner
are served as a set menu. Guests at the Quiver Tree Rest Camp have the
opportunity to interact with the variety of domestic and tamed wild animals,
including warthogs, cheetahs, and meerkats. Overnight at the Quivertree Forest
Rest Camp.
Day 3, Monday, May 24
Today you travel back towards Mariental and to Lapa Lange Lodge, an ideal
stopover to lessen the driving distance for the next day. The Kalahari is not a true
desert as it receives too much rain, but it is actually a fossil desert. Golden grass
and small red dunes are characteristic for this landscape. The Lodge is set in the
rugged Namibian wilderness and resembles an oasis of luxury. You can take
wonderful photos of the variety of African game visiting the waterhole at
the lodge to drink water.
Overnight at Lapa Lange Game Lodge.
Day 4, Tuesday, May 25
After breakfast, we depart for the Namib Naukluft National Park where you will
spend the next 3 days photographing the most amazing landscapes. You will arrive
at the only lodge inside the park (which means we can start shooting as early as
we want and stay until the last light is gone) at about lunchtime. After check in
and some rest, we have our first encounter with the most beautiful sand dunes in
the world. It's like "S-curve city", and it's impossible to take bad pictures here.
We capture low angled sunlight until dusk. Then we return to the lodge for
dinner. Overnight at Sossus Dune Lodge.
Day 5, Wednesday, May 26
We have two photo sessions today -- in the early morning and in the late
afternoon -- to take advantage of the best light on the dunes. All of the sand
dunes can be photographed right from the main road with a long lens, but you will
also want to walk up to the base to include a foreground and to use wide angle
lenses. At midday, we have lunch and time for resting or downloading
photographs. Overnight at Sossus Dune Lodge.
Day 6, Thursday, May 27
We leave the lodge very early in the morning and drive to the famous Deadvlei
where trees that died 500 years ago make striking foregrounds in the desert. The
skeletal remains look very dramatic against the dawn sky and sunrise. In the
parking area, you can also try your hand at capturing pied crows in flight. They
give you lots of chances. After our midday rest, we return to another section of
dunes for late afternoon photography. Overnight at Sossus Dune Lodge.
Day 7, Friday, May 28
Our adventure today takes us via Solitaire, which merely consists of a filling
station, a shop, a chapel and a bakery with a café. The café is well known for its
apple cake, many say it is "the best in the whole of Namibia". The first thing to
catch your attention when arriving at Solitaire is the abundance of classic cars
from the 1930's and 40's decaying in the desert. It's a lot of fun photographing
them. We then head west to the Atlantic Coast and Walvis Bay via scenic passes.
We arrive in the afternoon, and when the light becomes ideal we spend some time
photographing African white pelicans, flamingos, and other birds in the lagoon.
We overnight at the Oysterbox Guesthouse which is ideally situated on Walvis Bay

.
Day 8, Saturday, May 29
We get up early today to take a boat trip on the bay. We catch the sunrise
silhouetting ships and cranes, but the highlight of the morning is close enounters
with seals and pelicans. Both of these species are accustomed to humans, and at
least one or two seals jump up on the boat to give us a warm welcome. The
pelicans land on the boat's railings and on the roof of the bridge, and to fill
the frame you'll need a wide angle lens! You can also catch them in flight, landing
on the water and eating fish.
From Walvis Bay we drive about 40 minutes to Swakopmund, and after lunch we
enjoy a fabulous desert tour with Tommy. Besides wonderful landscapes of dunes
in good light, we are looking for desert reptiles and birds. Tommy has an uncanny
ability to find chameleons, lizards, snakes, and more. We end with a sunset shot
with dunes in the foreground and the Atlantic Ocean in the background. Overnight
at the Strand Hotel.
Day 9, Sunday, May 30
After breakfast, we drive back toward Windhoek. Your guide will drop you off at
Na'ankuse and bid you farewell. Na'ankuse Lodge and Wildlife Sanctuary is
dedicated to the rehabilitation and preservation of orphaned and injured wildlife. A
stay here is a highlight for many on their Namibian holiday. Located on 65,000
acres, this is the perfect habitat for recovering lions, leopards, cheetahs and many
other types of African animals. Even though these animals are captive, their
environment is the African bush and the pictures look completely natural. Species
that are very hard to see and photograph in the wild, such as caracals, wild dogs,
and genets can be photographed here. Overnight in the beautiful lodge at
Na'ankuse.
Day 10, Monday, May 31
We have two photo sessions today, early morning and late afternoon,
photographing big cats, wild dogs, and other species from ground level and up
close and personal. We can also squeeze in a photo encounter with the Bushmen
tribe because they have an encampment on the Na'ankuse property.
Overnight in the beautiful lodge at Na'ankuse.
Day 10, Tuesday, June 1
This morning we transfer to the international airport in Windhoek for our return
flight home, knowing we captured the most amazing pictures of this beautiful
African country.
Tour cost:
$6650
Includes:

10 nights lodging, all ground transportation, all breakfasts, all dinners,
boat tour, Tommy's Desert Tour, photography at Na'ankuse, photo instruction, and
critiques on demand.
Single supplement:

$800
Not included:
International airfare, travel insurance, drinks at meals, alcoholic
beverages, and items of a personal nature.