BEGINNER BALI PHOTO TOUR & RETREAT
AUGUST 12 - 21, 2021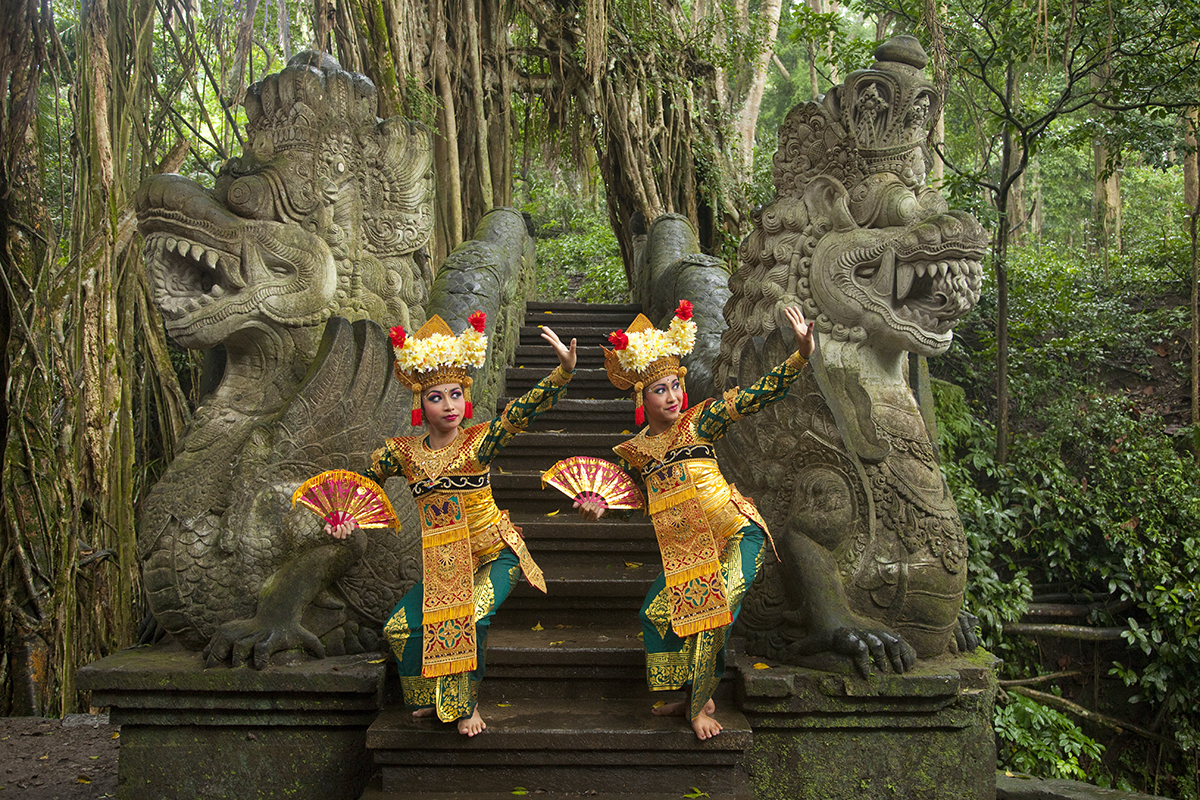 Join Indiana Zuckerman, Jim's wife, for a photography tour for beginning photographers in exotic Bali, Indonesia. This unique tour is more than photography, however. It also is an emersion into the beautiful culture of the Balinese, and in addition to taking amazing pictures, you will also have a cooking class to learn the secrets of Balinese cuisine, a purification ritual in the healing waters of the island of Bali, a spiritually uplifting message session, and you'll witness two of Bali's incredible dance performances. Indiana is a native of Indonesia, and she is the perfect guide to share with you the mystique of Indonesia's jewel -- Bali.
ITINERARY
Day 1, Thursday, Aug. 12
Arrive in Denpasar, Bali (airport code DPS) on this day. You will be met by our local representative and transferred to the hotel in Ubud. We meet for the first time as a group in the lobby of the hotel at 5:30pm followed by our welcome dinner.
Day 2, Friday, Aug. 13
After breakfast, we visit the Elephant Cave. This is the site of an ancient temple that dates back to the 11th century. It is believed it was built as a place for spiritual meditation, and it was rediscovered by Dutch archeologists in 1923. Following lunch, we drive to a famous coffee plantation offering the most expensive coffee in the world. Luwak Coffee is made from the droppings of the palm civet, a cat-sized mammal native to Asia. The plantation has free coffee tasting if you dare to try it! You can also photograph beautiful rice terraces across the valley from the plantation.
Day 3, Saturday, Aug. 14
Before breakfast, and before other tourists start their day, we drive a short distance to photograph another beautiful rice terrace in Tegallalang. After a leisurely breakfast, we then enjoy a performance of a uniquely stylized Balinese barong dance. The costuming, the makeup, and the fascinating choregraphy will keep you captivated. In the afternoon, we visit the Tirta Empul water temple which was founded in 962 A.D. Balinese Hindus come here for ritual purification.
Day 4, Sunday, Aug. 15
We have an early breakfast this morning, and then we driving to the Monkey Forest Sanctuary. The long-tailed macaques are plentiful, and you will love photographing the mothers and babies. At the bottom of the long dragon staircase, we will have two Balinese dancers model for us in various poses in this stunning jungle environment. You'll love this! Afterwards, we continue to the famous Ubud art market where you will see how truly creative the Balinese people are in batik, wood carving, jewelry making, stone sculpting, painting, and more. In the afternoon, we visit the beautiful Ubud Palace.
Day 5, Monday, Aug. 16
After breakfast, we drive about 1 hour and 45 minutes to photograph the Ulun Danu temple that was built in 1633. The temple is used for offerings to the Balinese goddess of water, lakes, and rivers. In the afternoon, we return to the hotel where you have the rest of the day at leisure to enjoy the amenities of the hotel or to do some exploring on your own.
Day 6, Tuesday, Aug. 17
This morning we will enjoy a cooking class with a local chef. We go to a Balinese traditional market to select food for the class, and this is a great opportunities to photograph the local people. The people in Bali are absolutely the sweetest you'll ever meet, and they will be so happy to be photographed. We then go back to the hotel where we will learn traditional Balinese cooking. After the lesson in exotic cuisine, we visit Celuk village which is known for making gold and silver jewelry and handicrafts.
Day 7, Wednesday, Aug. 18
After breakfast, we drive to one of Bali's most beautiful rivers for a rafting experience. You will feel like Indiana Jones floating through a jungle environment, complete with monkeys in the tree tops. This is a class 2 to 3 river which means it's fun but gentle. At the end of the trip, enjoy standing in a fantastic waterfall. We then return to the hotel, have lunch, and drive to the north part of Bali to enjoy a sunset at Tanah Lot, a small rocky island just off shore with a beautiful temple built on top of it.
Day 8, Thursday, Aug. 19
This morning we visit a wood carving place where skilled artisans carve stunning works featuring Balinese mythology and Hindu gods. Later in the day, we drive to the coast and photograph the spectacular Kecak Fire Dance in Uluwatu. This dance, unique to Bali, consists of about 80 participants and it's fascinating to observe.
Day 9, Friday, Aug. 20
Following breakfast we enjoy a purification ritual for spiritual healing. To the Balinese, water represents the flow of energy, a way to cleanse the body of physical and non-physical properties, and the connection to our emotions. We indulge ourselves in the luxurious and relaxing experience of a Balinese spa.
Day 10, Saturday, Aug. 21
We depart Denpasar, Bali this day at any time, knowing we've had the most remarkable cultural, photographic, and emotional experience.
Tour cost: $3750. Includes all lodging on a double occupancy basis, all breakfasts, all lunches, a welcome dinner, entrance fees, all ground transportation, cooking class, message, purification ritual, spa fees, and English speaking guide.
Not included: International airfare, visa fee, alcoholic beverages, items of a personal nature.
Single supplement: $562